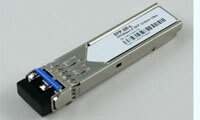 Buy from factory warehouse the low price and super quality Cisco SFP SFP-OC12-LR1 , get Cisco SFP SFP-OC12-LR1 from the leading fiber transceiver manufacturer, say goodbye to the high price from retails and choose the worry free products from original source. We make and store the Cisco SFP SFP-OC12-LR1 compatible transceivers. We send the Cisco SFP SFP-OC12-LR1 from our stock to clients from different parts of the world by courier companies like UPS/DHL/UPS and we gurantee the Cisco SFP SFP-OC12-LR1 is fully compatible with your system.
Cisco SFP SFP-OC12-LR1 general information
This Cisco compliant SFP-OC12-LR1 is a OC12 LR1 SFP 1310nm 40km transceiver module. The SFP-OC12-LR1 transceiver module provides a low cost high-performance connection. The SFP-OC12-LR1 is 100% compatible with all Cisco series switches and modules which support SFP transceivers.
Cisco SFP SFP-OC12-LR1 products details
Form Factor: SFP
Module type: Transceiver module
Interface (Bus) Type: Plug-in module
Connection method: Wired
Application: SONET/OC12
Data Transfer Rate: 622Mbps
Wavelength: 1310nm
Max Distance: 40km
Optical fibre: SMF
Connector: Duplex LC
DDM: Without DDM
Operating Temperature: 0~70 °C
Compliant with MSA SFP Specification
our company supply to worldwide customers with low cost and high quality compatible Cisco SFP SFP-OC12-LR1 transceivers, you will find the cost-effective modules here and you will find our Cisco SFP SFP-OC12-LR1 beyond your expectation, it is the one-stop source for optical fiber transceivers right here,no need to look around, you will find all the transceiver you needs here, next day delivery is standard and the products you bought will reach you safely and intactly by express.